Choosing a dentist can be overwhelming, as parents we are looking for a dental practice that we can build a long-term relationship with. Like many other decisions we make, picking a dentist can be difficult but Charlotte Pediatric Dentistry has taken the guess work out of choosing a pediatric dentist in Charlotte. 
Charlotte Pediatric Dentistry recently added a dental office in South Charlotte near the new Waverly shopping center, the office is just past the shopping center at 11835 Southmore Drive Unit #201. Like the offices in Davidson, Midtown, University, and Gastonia areas, the South Charlotte office is committed to making your child's visit to the dentist a pleasant experience for you and your kids. The new office is bright and happy, the rooms are engaging and have plenty to distract your kiddos from the actual dental cleaning.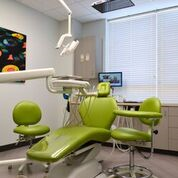 ​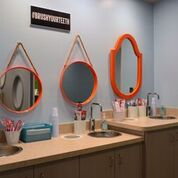 One of my favorite things about the new office are the special rooms set aside to treat patients with special needs. Charlotte Pediatric Dentistry has taken great care to create a space where children with special needs can have their exam in a quiet, less distracting and stimulating environment. The office also offers plenty for kids to do and to keep siblings busy while you're in the room with your other kiddo. Drs. Dunlap and Wilson have created a warm and welcoming dental office in South Charlotte and are now accepting new patients.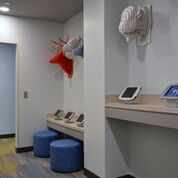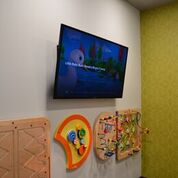 ​
You can get to know Dr. Wilson and Dr. Dunlap before your first visit in these videos! 
​ 
​
​
One of the main questions that dentist are asked is when should my child see a dentist for the first time, Charlotte Pediatric Dentistry shared the following information with us on this important first! 
There a lot of 'firsts' in your child's life – first smile, first laugh, first word, first step, first tooth, and many more. Each 'first' serves as an important milestone! When your little one's smile is complete, you will want to make their first pediatric dentist appointment – typically by age two.
By making an appointment with a pediatric dentist, you are taking the first important step towards a better dental future for your child! We strive to make every step of the appointment process an easy one. In order to make the appointment smooth for everyone involved, we have established some simple guidelines to ensure a great experience for your child.
​

​
Charlotte Pediatric Dentistry is offering a free exam for children up to age 2, you can make an appointment for your child at the new South Charlotte location or one of their other locations by calling 704-377-3687 or request an appointment online at this link.