You can relax knowing your child's brain is being stimulated during the summer months thriving in a hands-on learning environment. They will not even know they are learning! At Engineering For Kids, our educational enrichment classes provide a fun and engaging opportunity for students to explore and experience (STEM) science, technology, engineering, and mathematics.
Does your child want to know how to build a rocket after hearing about Space X? Or learn how roller coasters are made after visiting Carowinds? Maybe she would like to mix up her own perfume and lipstick. If your little one likes LEGOS, then take it to the next level and program them to move (coding). Can't get your kids off the video games? Take what they love and turn it into a learning experience by learning how to build these programs.
So you see, engineering is all around us and not necessarily just a technical field. Engineers thrive when they use both their right and left brain.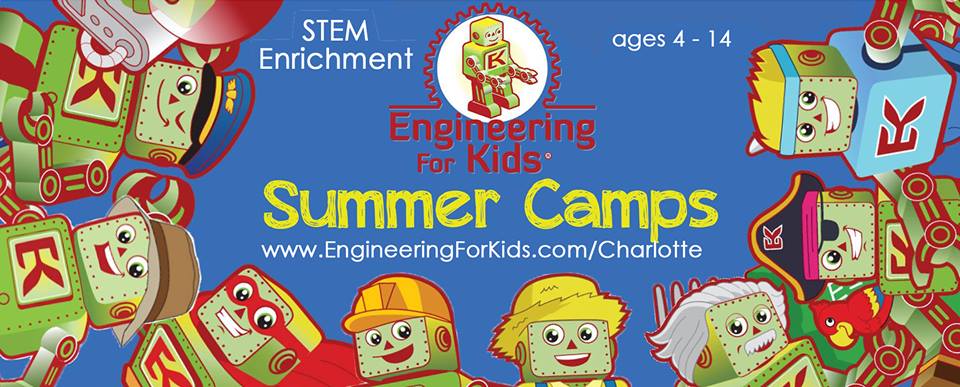 NOT JUST FOR BOYS
Check out these female engineer stats:
11% of engineers in the U.S. are women
Only 6.7% of women graduate with a STEM degree in the U.S.
26% of women currently in STEM careers
Stephanie Kwolek – Dupont, fiber as strong as steel – Kevlar (bulletproof vest)
Ruth Wakefield – chocolate chip cookie; science in cooking
Did you know these were inventions by women?
Kevlar (from Dupont fiber research)
Paper grocery bag (Margaret Knight developed over 20 patents)
Windshield wipers
Disposable diaper
Freezer
Car heater
Monopoly
Don't forget ice cream!
When children have increased exposure to science, it lays a groundwork for their participation in science-related occupations. Here are examples of the various types of engineering fields: Civil, Mechanical, Environmental, Architectural, Computer Engineering, Engineering Project Management, Geotechnical, Chemical, Structural, Aerospace, Electrical, Robotics, Agricultural, Industrial, Nuclear, Marine, Nanotechnology, and more. Engineering jobs show a five-year employee growth has been high at 16.7 percent even coming out of a recession. This hiring spree is projected to continue, and demand should be high in the coming years. Studying industrial engineering, manufacturing engineering, or a related specialization is the way to get started in this career.
Our camps are carefully structured to provide your child with the enrichment he or she needs to grow and thrive. Our programs come in many varieties to accommodate your schedules, such as half-day camps, full-day camps, and holiday break camps. Currently, we have two weeks of spring break camps as well as several weeks of summer camp options. For your convenience, camps are offered in four locations spread out around Charlotte. Sign up here to keep informed on our latest before and after school programs as well as Saturday classes. Kelvin the robot will come to your house or facility for a birthday party too!
Just a few of these beneficial opportunities include:
Teamwork: Most of our camps schedule fun and engaging teamwork activities that teach children the value of investing in others.
Resilience and motivation: Our challenging programs help to teach kids how to keep trying. This also helps them feel accomplished when they succeed, which develops their will to learn.
Decision-making: Our uniquely structured activities help children establish and build upon great decision-making skills, which can help build confidence.
Avoid the "summer slide," let us stimulate YOUR little engineer's mind and have fun! REGISTER HERE
Follow us for promotions, STEM activities to do at home, to see what our students are working on in classes, camps and more.
Contact Us
Phone: 704-750-5335
Email: Charlotte@EngineeringForKids.com
Website: www.engineeringforkids.com/charlotte/
It's fun and educational, it provides opportunities to kids and teaches them about life.
"Engineering For Kids prepares children for the future. It's fun and educational, it provides opportunities to kids and teaches them about life. Parents love the hands-on aspect to the programs... their kids have fun while learning at the same time!"
Jo P.