Summer's almost here, which means kids will get a break from homework and class schedules in favor of swimming and playing in the sun. It also means they'll get a break from lugging a heavy backpack to and from class every day.
OrthoCarolina Physical Therapy Manager Heather Harrison said the weight of a child's backpack can have a direct effect on their overall posture, as well as putting unnecessary strain on their still-developing neck, back, spine and joints.
But when students have heavy reading loads and lack of access to lockers, how can they avoid piling their packs full?
Heather gave us some tips for keeping backpack weights safe for children and teens:
Pick the right pack
Don't just grab a backpack emblazoned with your child's favorite cartoon character. When picking a backpack, you'll need to consider your child's size, weight and academic needs.
Reach for a traditional backpack with two wide, padded shoulder straps, a waist strap and maybe even a chest strap to prevent slouching, Heather suggests. If possible, pick one with extra compartments to help distribute the load more evenly. Try to avoid drawstring backpacks and messenger bags that are worn over one shoulder.
You'll also need to make sure it's the right size for your child: the height of the backpack should extend from the shoulders to about two inches below your child's belly button, and the width of the backpack should not extend wider than your child's trunk, Heather says.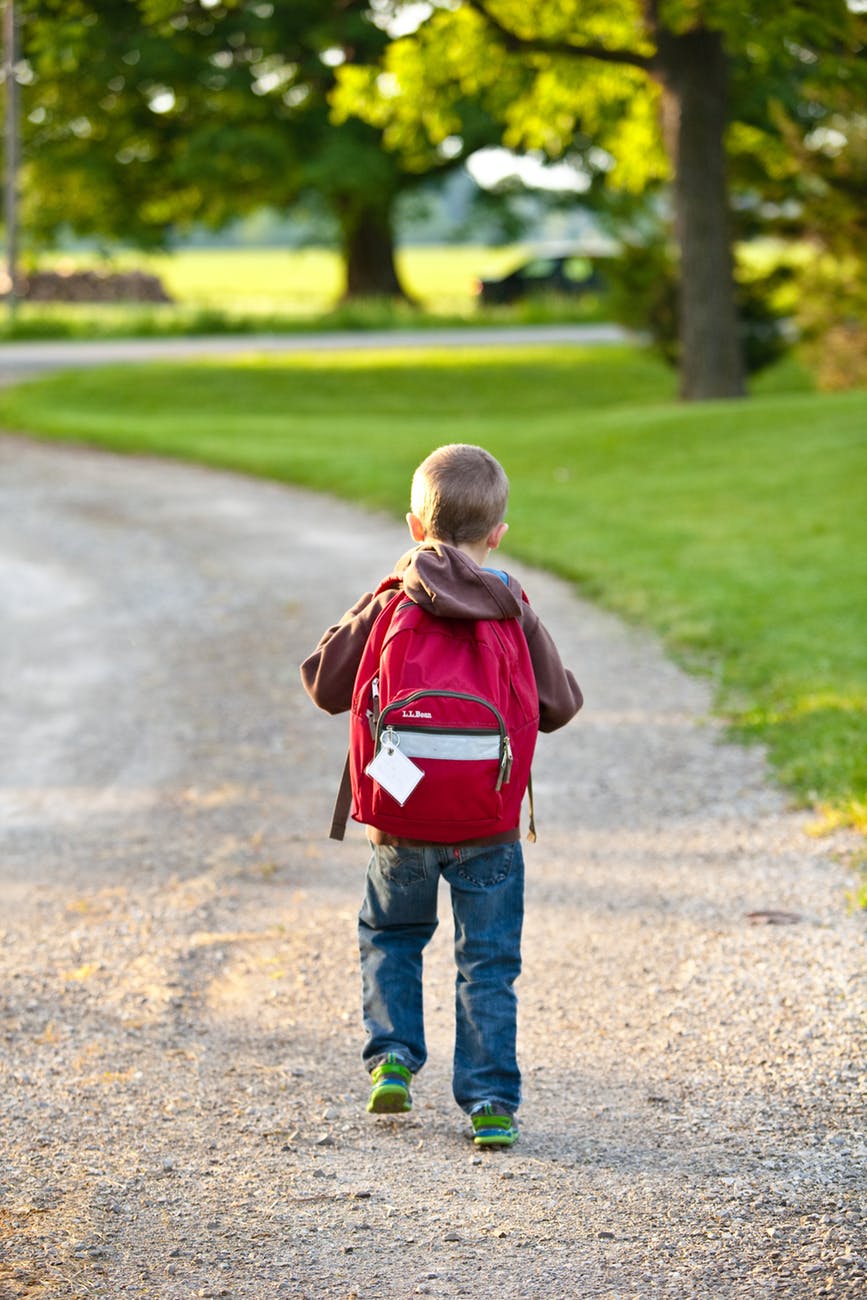 And don't believe everything you read with fancy tags that say things like "ergonomic."
"Not every ergonomic backpack is going to be one size fits all," Heather says. "I would encourage parents to follow the suggestions regarding sizing, straps and organization and make your choice based on those factors. Backpacks can get quite expensive when you start looking as some of the higher-end brands, however, most parents should be able to find a good backpack that fits their child well within their budget."
Keep weight low
The American Academy of Pediatrics says a backpack should never weigh more than 10 to 20 percent of the child's body weight.
For example, if you have a first grader who weighs 50 pounds, his backpack should weigh a maximum of five to 10 pounds. If you have a high school-aged child who weighs 120 pounds, her backpack should weigh between 12 and 24 pounds.
Your child may not complain directly about the weight of his backpack, but if he says his neck, shoulders or back hurt while he's wearing it, it's time for a weight and fit check, Heather says. Also, if your child mentions having neck, shoulder or back pain while sitting in class, the backpack could still be the culprit. Heather says kids and teens may not notice it when they're moving and talking with friends, but when they have to sit still for awhile, the pain may set in.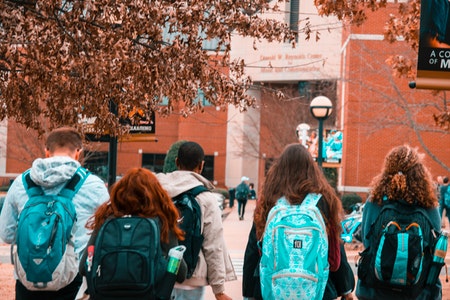 Pack it strategically
Heather suggests utilizing all the backpack's compartments to distribute weight more evenly. She says to pack heavier items such as books in the larger compartment closest to the body, and use the smaller compartments for smaller items like pens, pencils and calculators.
Lighten the load by having your kids pack only what they need for that day's classes, and consolidate binders and notebooks for multiple classes if possible to avoid having multiple large items in the bag at a time.
If it's a big homework day that requires lots of heavy books to go home, Heather suggests having kids carry some of the books in their arms while leaving others in their backpacks to help with weight distribution.
"If you think about an old scale, if you place four objects on the left side, then the scale is going to tip to the left," she says. "If you place two objects on the left side and two objects of equal weight on the right side, the scale will be centered and balanced."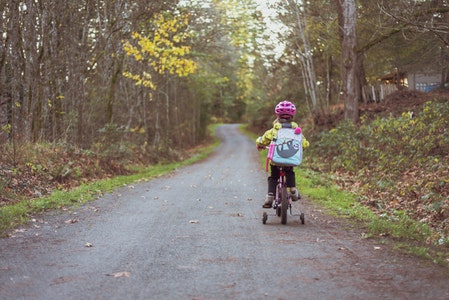 Wear it correctly
Make sure your child is wearing both shoulder straps. Wearing just one could cause your child to lean excessively to one side, changing her posture and leading to increased muscle strain in the neck, shoulders, lower back and spine.
The straps should sit evenly on both shoulders and be adjusted so the bottom of the backpack doesn't extend below the lower back.
If your child's backpack has chest and shoulder straps, have her wear those as well to keep the bag from swaying back and forth and to allow for better weight distribution.
Practice posture and good lifting strategies
Heather says it's important to encourage kids to stand up straight and avoid slouching when wearing their backpacks. You should also teach them to bend both knees and hinge at the hips (rather than bending over at the waist) when lifting a heavy backpack.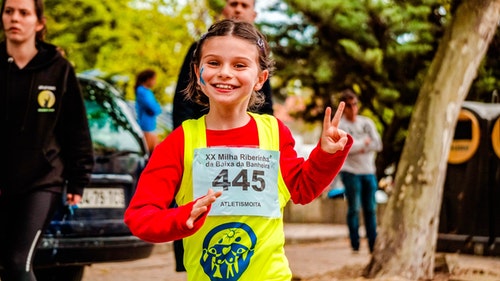 Get moving
Heather says backpacks aren't always the sole reason for neck and back pain in kids.
"In general, children need regular physical activity to help them to develop the core strength and postural endurance needed to maintain proper posture throughout the day and to avoid developing issues such as neck pain and back pain at a young age."
She suggests encouraging children to stay active and strong by exercising regularly or participating in sports.
Now that you know everything there is to know about backpacks: picking them, packing them and wearing them, your child will be set for the next school year with a perfectly proportioned pack.
Want to know more? Check out our Facebook live with Heather, she showed us the correct way to pack a backpack and more.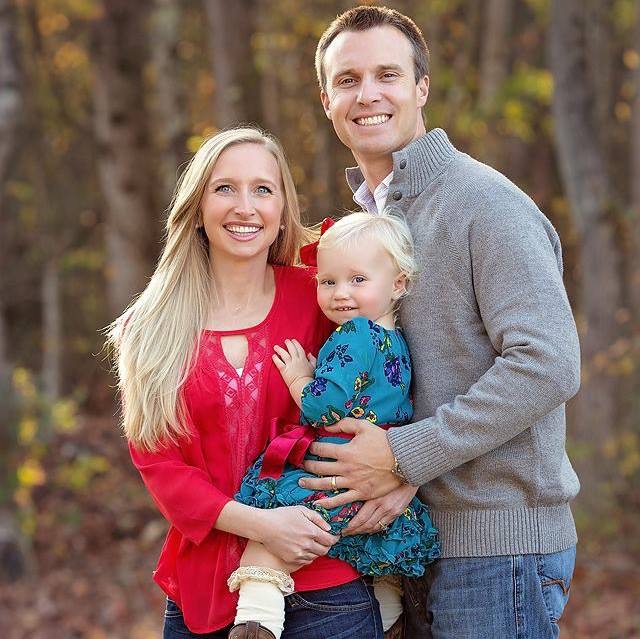 Heather Harrison, PT, DPT, OCS - Heather is the clinic manager for OrthoCarolina is Huntersville, NC. Heather attended the University of North Carolina at Chapel Hill where she received her Bachelor of Arts degree in Exercise and Sports Science. Heather has always had a passion for exercise and wellness and developed her love for the field of physical therapy since she was a patient herself due to multiple injuries and surgeries from being a competitive gymnast, dancer, and cheerleader from elementary school through her time at UNC - Chapel Hill where she competed and performed on the sidelines during Football and Basketball games as a member of the UNC Dance Team. Following undergrad, Heather received her Doctor of Physical Therapy degree from Duke University. More recently, Heather earned her designation as an Orthopedic Certified Specialist through the American Board of Physical Therapy Specialties. Her experience as in cheerleading and gymnastics includes being a UCA and Spirit Xpress Cheerleading Camp Instructor from 2000 - 2006. Heather also worked as an All Star Cheerleading coach for White Lightning All Stars after graduating from Duke University. Heather became level 5 certified for All Star Cheerleading by the USASF in 2011. She retired from coaching after she had her first daughter, Quinn, in 2012 in order to spend more time with her growing family.


To make an appointment with Heather or another provider at OrthoCarolina viist the OrthoCarolina website.
Get social with OrthoCarolina
Facebook, Instagram, YouTube and Twitter