Asheville is one of our favorite places in North Carolina. From the outdoor activities to the great food and iconic landscapes, there is so much to do! But can you do it in one day? We've put together a sample itinerary for 24 hours in Asheville for you - with an option to extend to an overnight stay!
If you are going for the day, you'll want to get up and on the road early, as the road-trip from South Charlotte will take you around 2.5 hours. The drive is pretty easy and, in my opinion, one of the prettiest out there: winding roads through the mountains with plenty of places to stop for photos! We usually pack food and eat breakfast on the way - but you could stop roadside for food.

This is a great one-day itinerary for those looking to get the most of your day in Asheville:
9 AM: Obligatory stop at Well-Bed Bakery in Biltmore Village for some baked goodies to take with us up the top of the mountain
10:30 AM: Hike to Skinny Dip Falls; swim in the "pool" and explored nature; bring a change of clothing and a wet bag!

12:30 PM: Drove to Looking Glass Rock scenic route and had a trunk picnic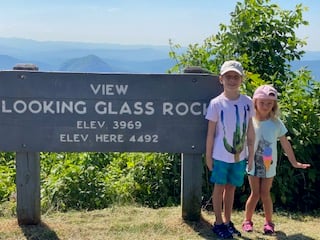 2:30 PM: Stop at NC Arboretum for the incredible Lego Exhibit. Each of the statues used upwards of 40,000 legos!

5 PM: Have dinner at Asheville Brewing Company - for socially-distant, safe and fun dining. The menu was filled with pizza, burgers, sandwiches, gluten-free and vegan options - so plenty to choose from. The craft beer menu is robust and the best part: EVERYTHING WAS TOUCH-FREE! The menus are available online and via a QR code, you order and pay at the window and retrieve your food from a masked and gloved worker. The entrance was "red velvet roped" and there was a one-way exit.
7 PM: Stop at Sunshine Sammies for some artisan ice cream before heading home. Everything was pre-scooped or pre-made/packaged in a sterile environment.
Day 2 Options:
If you wanted to stay overnight, you could easily find some inexpensive lodging or even go camping - there are so many great options for that. And, if you wanted to add a second day's activity, you could get tickets to the Biltmore Estates (click HERE for its COV-19 guidelines) or even check out one of these great attractions: