It's that time of year again... With the colder weather brings the rush in shopping mall lines, the increase in amazon traffic, and the unending worry about what to buy for your family member or friend with autism. It can be challenging to know what gifts to buy for a child with a developmental disability such as autism. I can tell you from personal experience that I too have stood in the shopping aisle with that confused look on my face as well. That is why our team of skilled professionals (Speech, Occupational, Physical and Behavioral Therapists) got together to create a great list of popular toys used in our clinics to encourage social play and target speech and language development.
At Autism 360, we believe in play with a purpose. Not only should play be fun, but engaging and educational as well. Below you will find some great techniques and toys our team recommends for your holiday gift list this year.
Children with Autism often struggle with joint attention- the ability to focus on people and objects at the same time. It is fundamental to communication and is often an area of deficit for children with autism. All toys that are interesting to a child can be used to target joint attention. During a joint attention activity, you can use self-talk to talk about what you are seeing, feeling, hearing, or doing. During self-talk, use single words or short phrases that are easy for your child to understand. A good rule of thumb is to speak at or slightly above your child's level. For example, if your child is using one to two words at a time, you would talk about the toy/activity with your child using two to four-word phrases or sentences.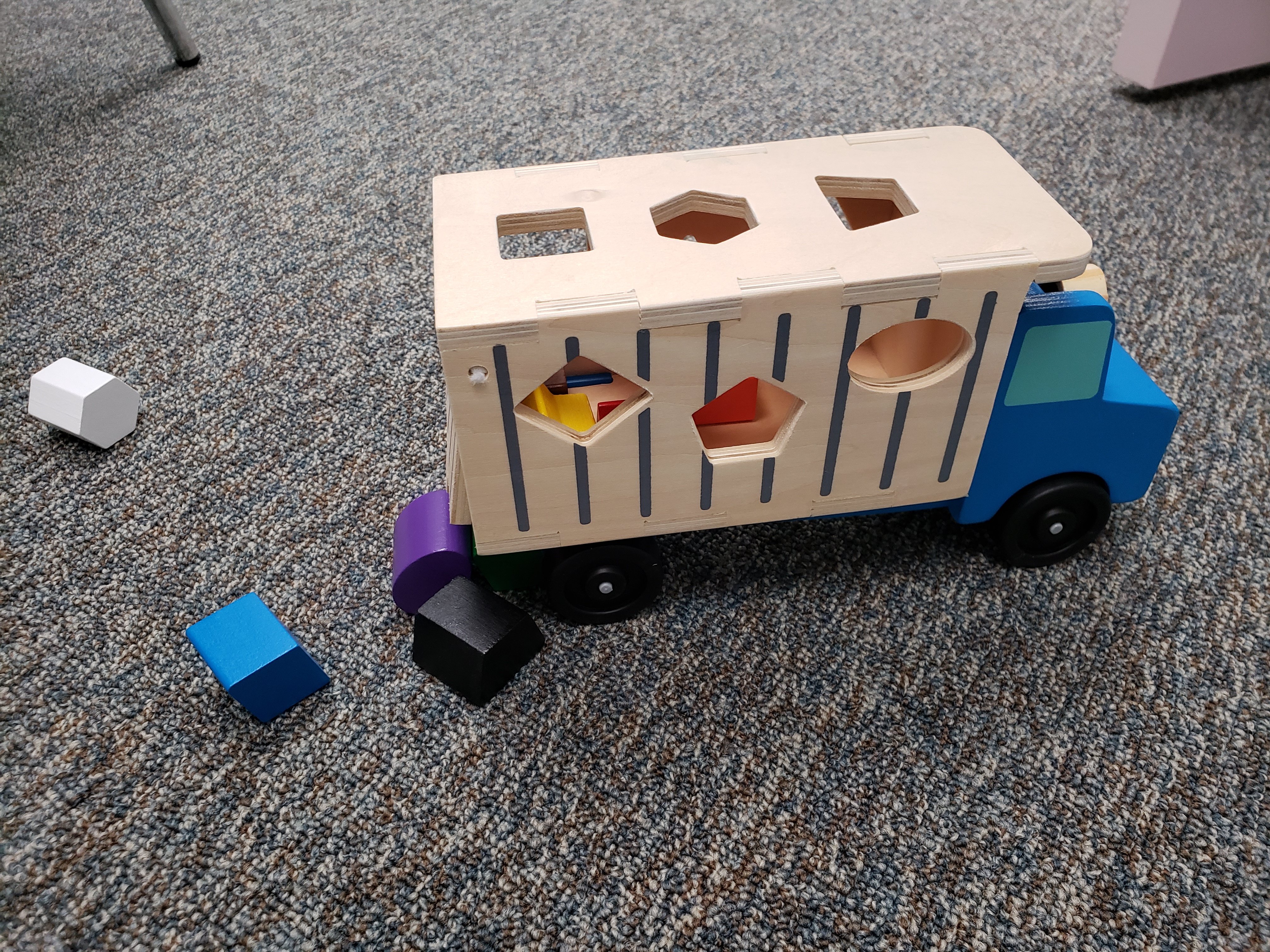 The number one toy choice polled by the Autism 360 team is the Melissa and Doug Shape Sorter Truck. This toy can be used to teach vocabulary for basic opposites (e.g., in/out, stop/go), colors, numbers, and shapes. If a child is verbal or is using an AAC device to communicate, he/she can use a carrier phrase to request shapes or colors. Carrier phrases are words that often go together and are used as a unit (e.g., "I want…", "I like…").
Mr. Potato Head is a classic toy by Playskool that can be used to name body parts and to teach some of the earliest developing spatial concepts (in/out, on/off). If you aren't feeling nostalgic, another option is a trendier Potato Head, like Yoda Head or Darth Tater. Language modeling can be used informally while playing with toys or during everyday activities. This strategy is used to provide the word for the child rather than asking the child to imitate what you say. It can be used to help children understand that communication is useful for interaction and to express feelings and ideas.
Train sets make for wonderful gifts and can be used for constructive play. The child plans and creates using the pieces of the train track and blocks. It is useful for modeling language for shapes, colors, and verbs. It can also be used for functional play (i.e., appropriate play with a toy) by making the train go back and forth on the tracks.
Another great group of toys are People toys; toys that are difficult for a child to operate without help. Some toys that fall into this category include wind-up toys or some two-step toys. These toys encourage interaction because your child needs you to help them work. Once your child can ask for help, these toys provide opportunities for taking turns during the activity.
Outdoor play equipment can be used to set up opportunities for your child to request a turn (e.g., a push on a swing) or to make choices (e.g., "Do you want a push or a spin?"). Large outdoor play equipment provides opportunities to interact socially and to learn playground rules (e.g., waiting in line to access the ladder to the slide).
Toy food can be used to teach basic vocabulary, categories (e.g., fruit, vegetables, meat, red food, green food), opposites (e.g., hot/cold, spicy/sweet), sorting. It can be used during role play (e.g., "Please can I have…?"), cooperative play (e.g., Building a pizza: " I put cheese on; now you put pepperoni on."). Role play is useful for teaching children how to start, maintain and end conversations with other children.
Dress up outfits can be used for learning basic vocabulary about clothing and body parts (e.g., arm in shirt). Dress up clothes and associated objects (e.g., doctor's coat, stethoscope) can also be useful for role play. In situations where a child may be fearful of an activity like going to the doctor, allowing the child to assume the role of the doctor, while the parent is the patient may be useful to desensitize the child to the stressful situation.
Books Depending on your child's level of development, preferred books can range from cardboard books to chapter books. Wordless books (e.g., Good Night, Gorilla by Peggy Rathmann) allow the child to follow the sequence of the story by looking at the pictures. The child may point at and label pictures, while you talk about the story sequence on each page. Books with fun sounds and rhyming words (e.g., Mr. Brown Can Moo, Can You? By Dr. Seuss) are fun to read and increase your child's interest in hearing new words and sounds. Stuart Lynch Never Touch a Porcupine! and other related books by the same author are wonderful interactive books that engage a child's senses. Predictable books with repetitive words and phrases (e.g., Brown Bear, Brown Bear, What Do You See?) help children develop vocabulary. The Berenstain Bears and the Trouble with Friends by Stan Berenstain and Jan Berenstain provides helpful solutions for complicated issues like friendships, problem-solving, sharing, and negotiating.
While no list can be all inclusive, the Autism 360 team is confident these gifts are sure to engage even some of the pickiest recipients. If you are still unsure about how to engage with your autistic child this holiday season, please feel free to reach out and speak with one of our Board Certified Behavior Analysts to learn more techniques and tips. We are eager to learn more about your family and offer additional tools.
You can reach Autism 36o at 704-529-9090 or info@autism-360.com
Get Social with Autism 360
Did you miss our Facebook Live tour of Autism 360? Check it out here and get a peek at this amazing facility