When the temperatures rise, nothing beats the splish-splash of water play. Sometimes, you feel like beaching it, other times the pool will do - but the joyous giggles and shrieks at the splash pad are some of my favorite.
Here are some of our favorite splash pads around town!
The Green ~ 400 S. Tryon St, Charlotte
The heart of uptown offers kids an opportunity to frolic in the water among the tall skyscrapers and fun uptown vibe. The green is perfect for littles to run and play and the water features look like fish. No bathrooms or shelters, but good clean fun, nonetheless.
First Ward Park ~ 301 E Seventh Street, Charlotte
Across from the 7th Street Market and ImaginOn, this is one of our family's favorite spots when we make a trip uptown! No bathrooms, but no worries. You can pop over to the 7th Street market for that. There are garages and street parking options around.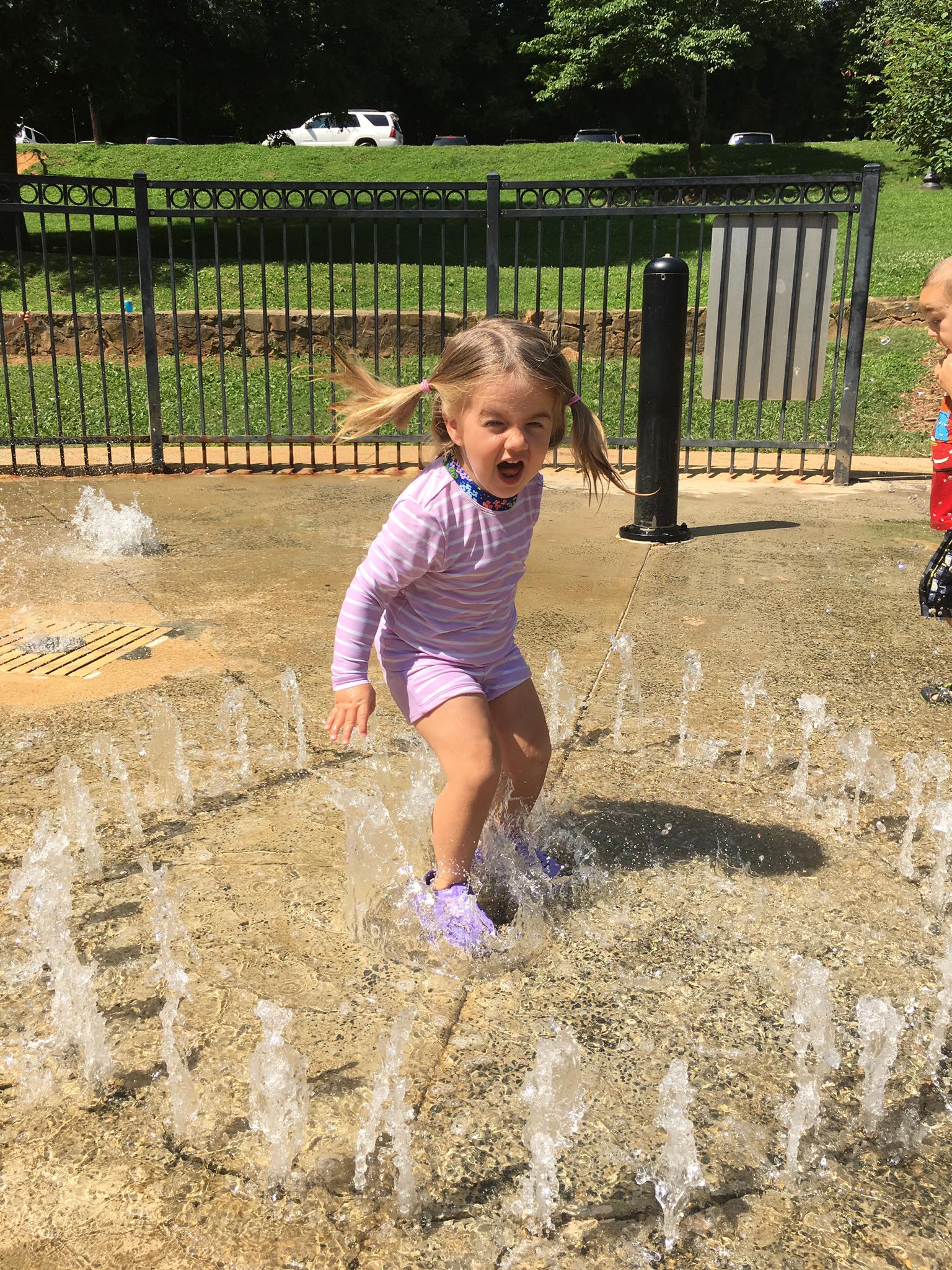 Latta Park Splash Pad ~ 601 E. Park Ave., Charlotte
This sweet little neighborhood park has a wonderful splash pad and open area for the kids to enjoy. It is fenced and that also makes a parent's job a little easier when it gets crowded. There are some shady spots, public restrooms, and shelter for lunch or a break. Parking can be a problem on crowded days, but a pro-tip is to get there early!
The YMCA of Greater Charlotte:
Harris YMCA Pool and Splash Park ~ 5900 Quail Hollow Road
Your membership to the YMCA may gain you entrance to this awesome pool and waterpark. Perfect for littles and bigs, there is a huge outdoor waterpark AND an indoor water park, too! You may also be able to secure day passes or transfers from other YMCAs.
Morrison Family YMCA Water Park ~ 9405 Bryant Farms Road, Charlotte
Your membership to the YMCA may gain you access to one of our family's favorite nearby water parks. When the kids were little, the shallow water filled with slides and play structures kept them busy for hours and now that they are bigger there are bigger slides to play on. There's plenty of shade and a snack bar also. You may also be able to secure day passes or transfers from other YMCAs.
Brace Family YMCA ~ 3127 Weddington Rd, Matthews
Your membership to the YMCA may gain you access to this pool and fun waterpark. It is open daily from 12:00 - 4:00 PM, with a splash park and swim lanes for bigs and little kids. The zero-entry water is great for toddlers and there is a snack bar for quick eats. You may also be able to secure day passes or transfers from other YMCAs.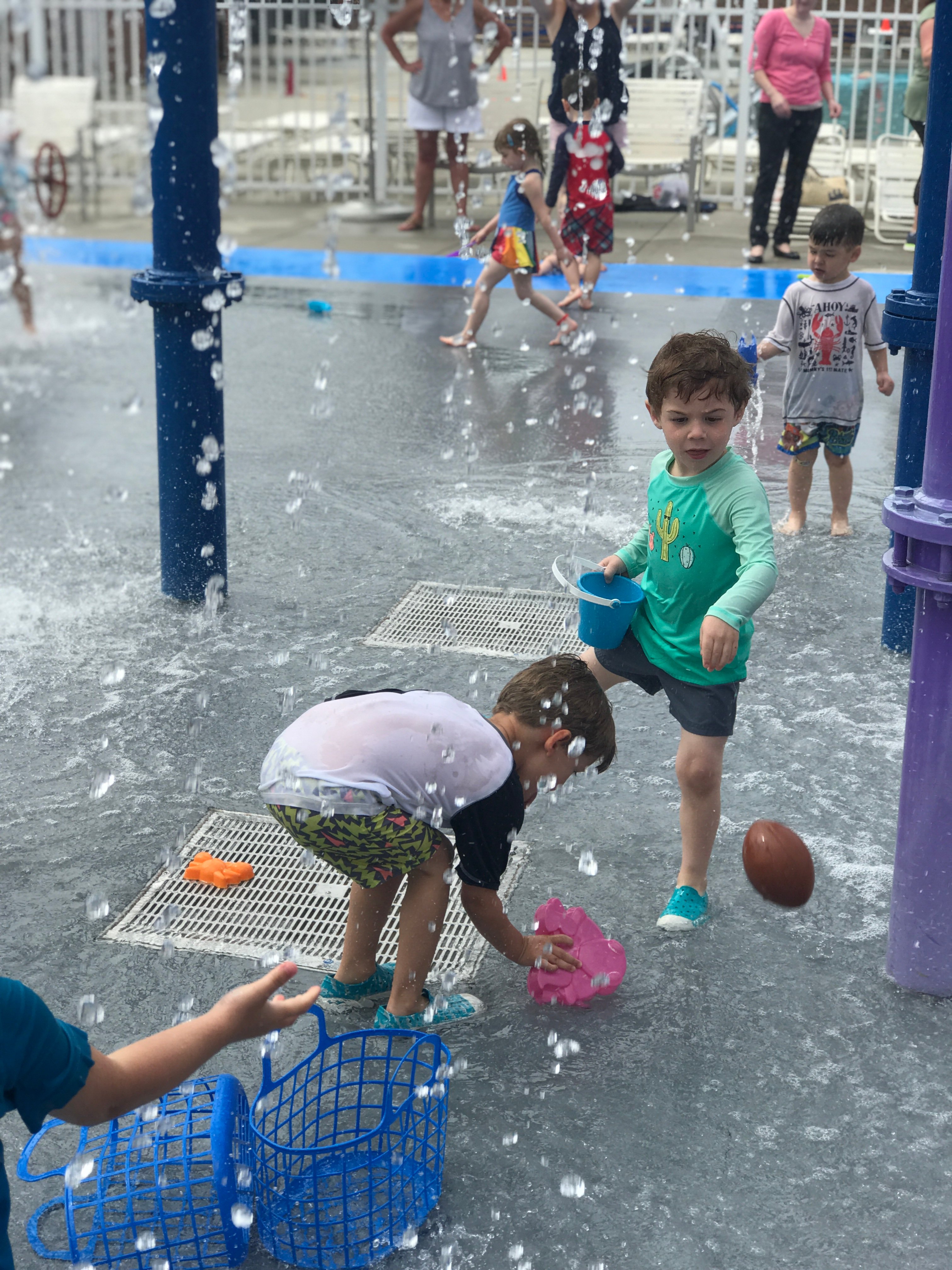 Levine JCC Aquatic Center ~ 5007 Providence Road, Charlotte
Membership is required at the Levine JCC, but the aquatic center is amazing. This summer, the pool area will be operating at full capacity, though reservations will be required. The zero-entry pool is perfect for littles and the big slide area is fun for strong swimmers. Between the lap pool and the plunge pool, you'll find an awesome and fenced splash pad that even bigger kids like.
Blakeney Shopping Center Splash Pad ~ The intersection of Ardrey Kell and Rea Roads, Charlotte
While it wasn't open during the summer of 2020, we anticipate that this year (2021) the Splash Pad will once again open from Memorial Day through Labor Day. The hours of operation are 9 am – 10 pm, daily. Service is suspended during inclement weather.
Waverly Splash Pad ~ Waverly Walk, Charlotte
Whether you've been shopping or dining or just want to come out and let the kids run on the green, this splash pad is a favorite among South Charlotte parents and caregivers. Grab some coffee or ice cream and let the kids play while you enjoy this beautiful weather. There's a parking deck around the back - since parking can be an issue.
Worth the Drive:
Crooked Creek Splash Pad ~ 5900 Oakwood Lane, Indian Trail
One of our favorite parks in Union County, Crooked Creek Park offers two playgrounds, multiple ball fields, shelters, trails, and a fully fenced splash pad. Slated to open on Memorial Day weekend, the splash pad is typically open from 9a to 7p.
Stallings Splash Pad at Stallings Municipal Park ~ 340 Stallings Rd, Stallings
Stallings Municipal Park has three playgrounds, tennis courts, open fields a music amphitheater, and shelters plus a large open splash pad. While no opening date has been set, it will be open before it gets too hot!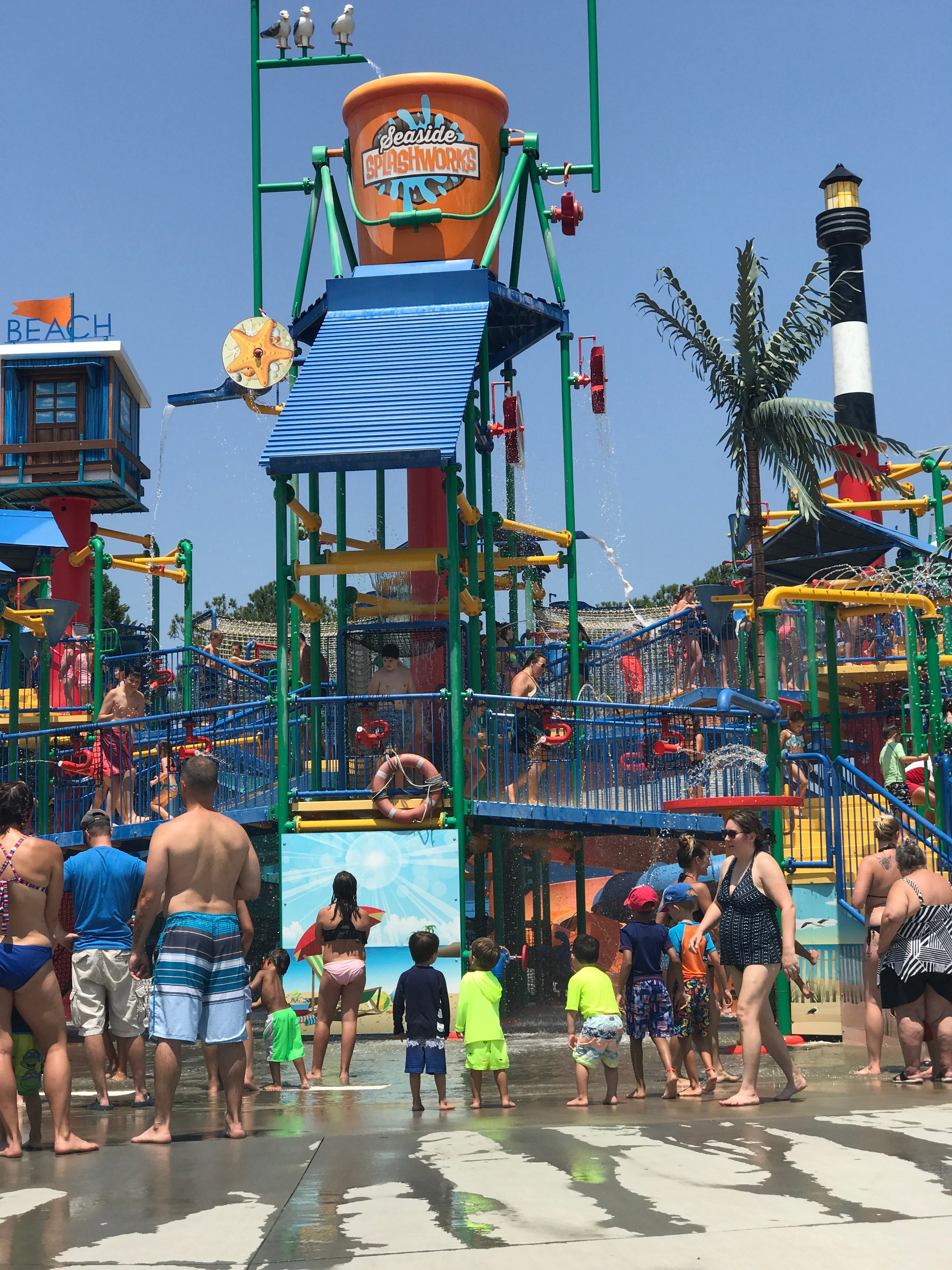 Carolina Harbour Waterpark at Carowinds ~ 300 Carowinds Blvd, Fort Mill
This massive waterpark features everything from giant water slides and wave pools to large play structures and a three-acre kids' area. If you have a preschooler, you may still be eligible for the Preschool Pass and Gold Passes typically pay for themselves if you plan to visit the park more than 4 times throughout the year.
Pineville Lake Park Splash Pad ~ 1000 Johnston Dr, Pineville
Opening Memorial Day weekend, this splash pad is one of the best in the South Charlotte area and is easily accessed from Fort Mill and Tega Cay! Plenty of space to run and play, bathrooms, and shelters for shade - this is among our favorites.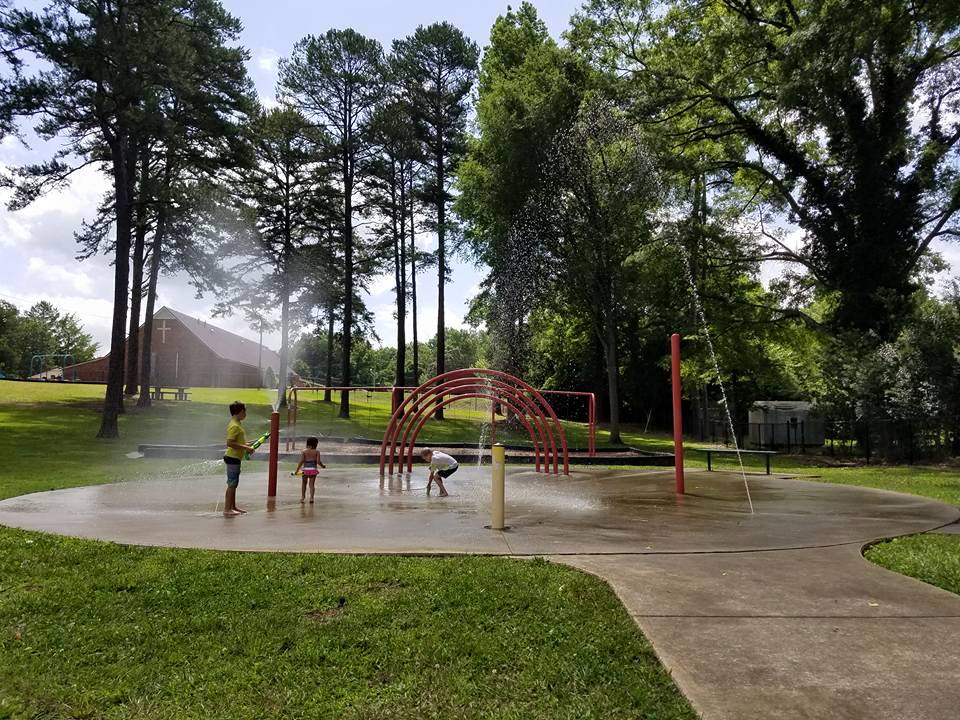 Steele Street Park ~ 600 Steele Street, Fort Mill
Steele Street Park is a 5-acre park located in the Steele Street neighborhood between Berry Street and McGee Street. The Park features tons of fun from a lighted Basketball court to a children's playground and the Water Spray Park which opens Memorial Day Weekend and closes the second week of September. The water spray park is open every day from 10a - 8:30p
Baxter Close YMCA ~ 857 Promenade Walk, Fort Mill
Complete with plunge and lap pools for adults and big kids, plus the shallow water park with fun splash attractions, this splash pad is accessible with your membership. You may also be able to secure day passes or transfers from other YMCAs.
Clover Splash Pad ~ 499 Memorial Drive, Clover
This 21-acre park in Clover features lots of family fun, but most importantly, a splash pad that is open from Memorial Day through the second week of September. Typical hours are as follows:
Monday-Saturday ~ 10:00 am - 12:00 pm / 1:00 pm - 3:00 pm / 4:00 pm - 6:00 pm
Sunday ~ 1:00 pm - 3:00 pm / 4:00 pm - 6:00 pm