Summer Arts Camps at Matthews Playhouse
Do you have a child who loves performing, singing, and dancing for family and friends? Our summer camp program can certainly nurture your child! Do you have a child who is shy and quiet? Matthews Playhouse summer camps could be just the place where your shy child can shine! Our summer camp program is specially designed for children and teens to have fun, nurture their creativity, make new friends, and try new experiences. With 9 full weeks of summer arts camps in 2022, there is certainly something for everyone.
We know that as our communities slowly reopen, many parents are eager to find opportunities for their children to get active, socialize and have fun. We are so delighted that after a safe and successful summer in 2021 (with nearly 700 children in our summer program), Matthews Playhouse is again excited about operating its summer camps in the greater Matthews region!
Matthews Playhouse does such an amazing job of making summer feel extraordinary. With enchanting themed camps based upon storybooks, popular films, video games, and Broadway shows (such as Encanto, Paw Patrol, Villains, Harry Potter, Lego Masters, etc.), Matthews Playhouse is sure to please even your most fickle child. After the last two years that we have had, your child is going to love being out and about and hanging out with friends.


For the older children and teens, our full-day Intensive classes in Acting and Musical Theatre Camps are a wonderful way to hone specific performance skills and with a culminating evening performance to showcase what they learned, both participants and family members are sure to be delighted.
Safety First
After a successful camp season in 2021, Matthews Playhouse knows what works. We have spent countless hours implementing and perfecting an environment where safety is top of mind. Since camps are being held indoors at the Matthews Community Center, as long as county and state-wide safety measures are in place, we are prioritizing such things as:
Facility Sanitation - Matthews Playhouse staff will perform a thorough cleaning of all of the facilities for both our half-day camp and full-day camps.
Frequent Camper Health Checks: Campers will have their temperature checked before they enter the camp.
Personal Protective Equipment - All staff will wear masks when indoors and when six feet of distance isn't possible outdoors, and all campers are required to wear a mask when inside the building.
Handwashing Stations - Handwashing stations are available throughout the Matthews Community Center.
Something for Everyone
Matthews Playhouse camps are indeed special because we take into account what kids want. With so many options to choose from, every child finds a happy place.
Featured Camps
Acting Out Studio: Summer at Acting Out Studio! Camp Acting Out: Award-winning Camp Acting Out Summer Camps Camps are every week of the summer Monday-Friday 9 am-1 pm at all 3 locations Charlotte-Fort Mill-Cornelius! $300 per week and always a different theme! Our camps will cut off at 10-15 campers so make sure to register soon at www.actingoutstudio.com. *25.00 off Summer Camps and Summer Unlimited until March 1, 2022.
Ballantyne Reading Academy: Help your child maintain their reading skills over the summer! Or give your little one a head start going to preschool in the fall! Our exciting summer camps are for both emergent and independent readers. Even reluctant readers will get motivated through:-Week long, thematic-based camps with lots of reading, writing, discussion, and multi-sensory letter play that engage students in their own learning!
| | | |
| --- | --- | --- |
| | | |
Big Air: The most flexible camp in Charlotte is back and better than ever! Camp Air at Big Air offers morning sessions, afternoon sessions, all-day sessions, and full weeks! Registration is easy and can be done up to the day of! Our dedicated Camp Air Team structures the playtime, eating time, and activity time that changes each day to keep our campers engaged and excited! Don't feel like packing a lunch? Teach your kids how to budget and load a Big Air gift card for purchases in Big Eats Cafe or grab a meal pass with your booking. We offer Camp Air on Spring Break as well so if you don't have plans, we've got you covered!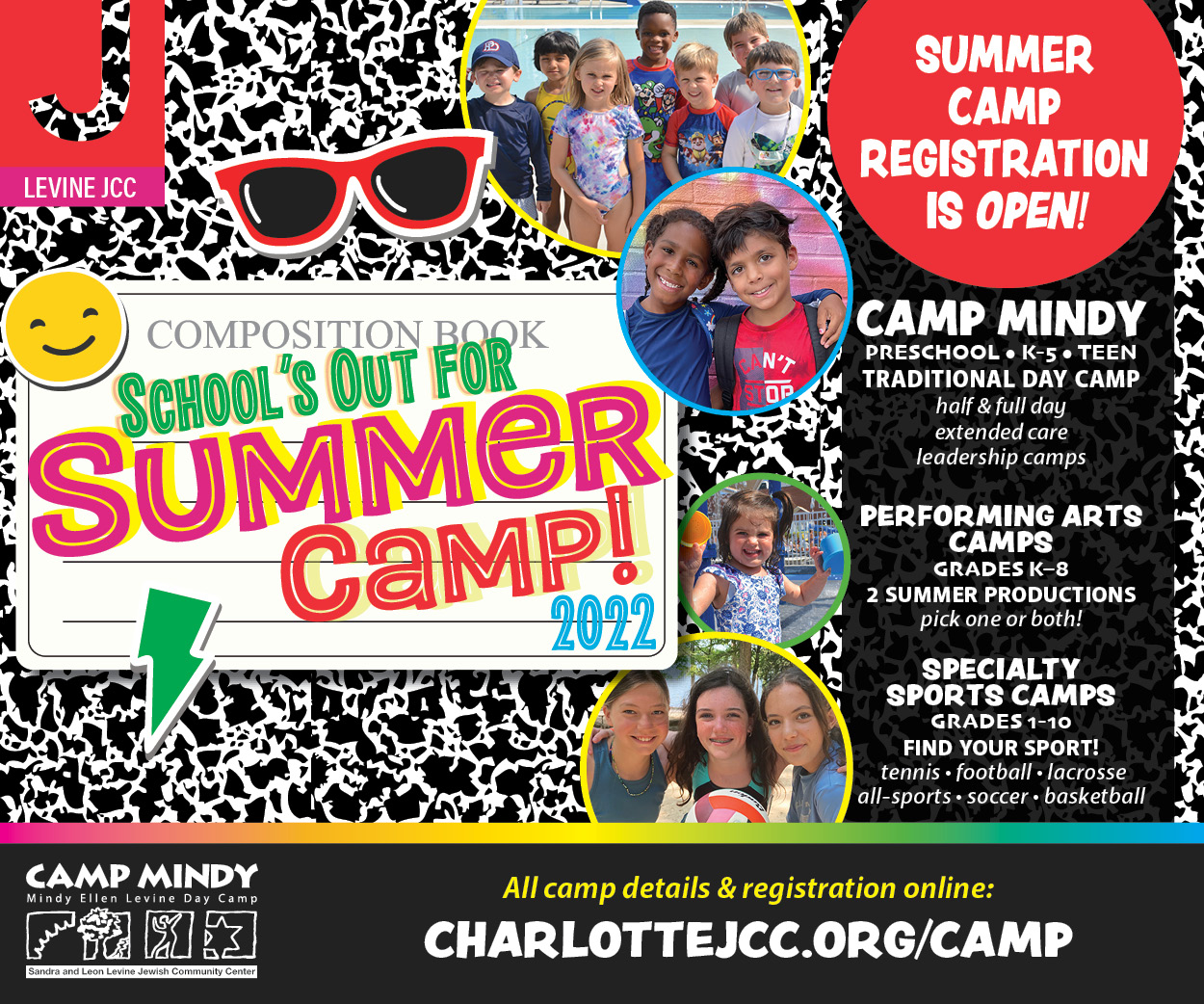 Camp Mindy at Levine JCC: The Mindy Ellen Levine Day Camp, located on a lush 54-acre campus in the heart of South Charlotte, is the Levine JCC's premier traditional day camp. We believe that a summer camp experience can have positive and lasting benefits for your child. Through making friends, participating in an array of activities, learning new skills, being outdoors, and experiencing Judaism, camp becomes a magical place where campers have fun, grow and feel good about who they are.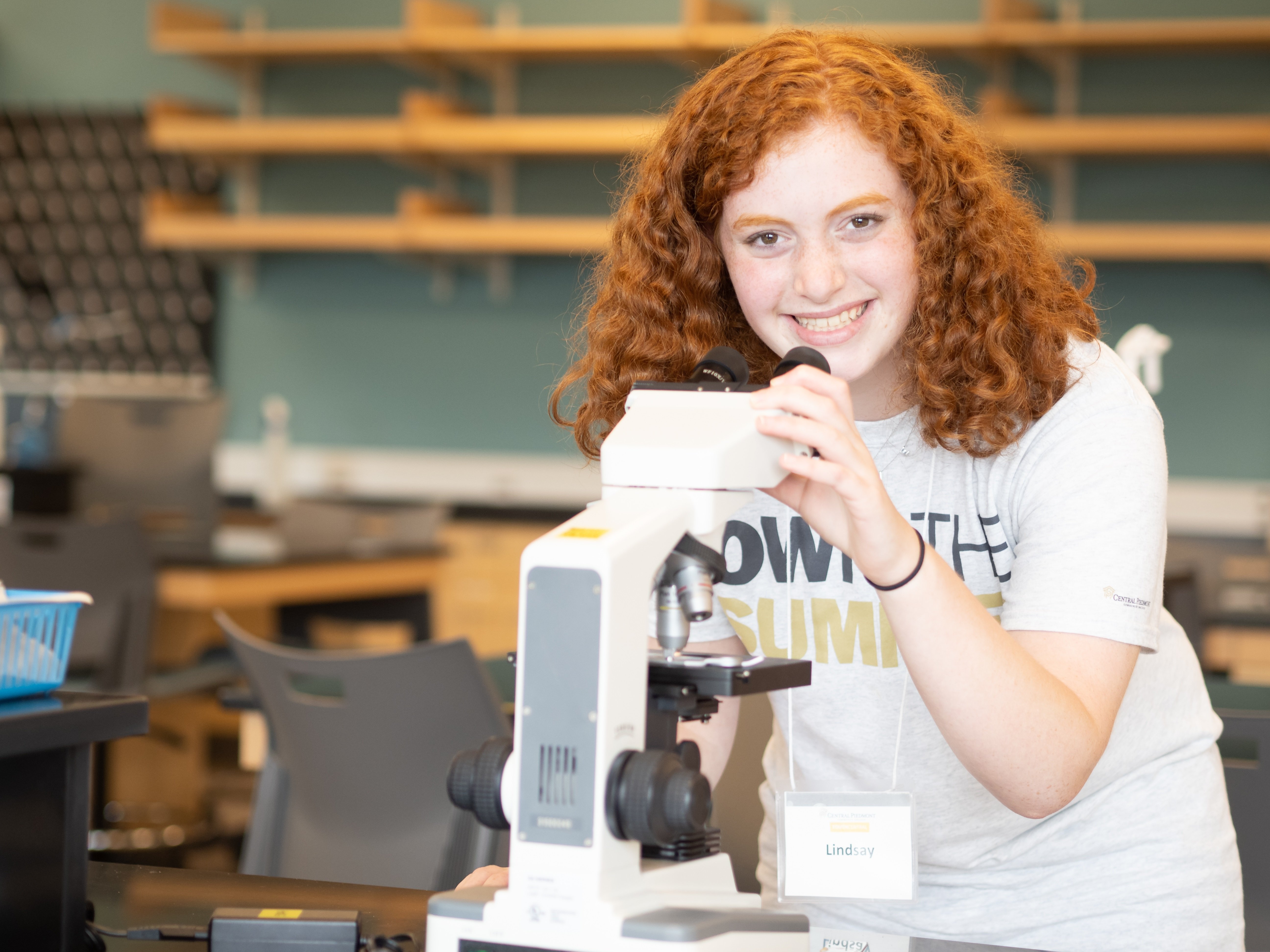 CPCC: Summer Camps at Central Piedmont are the perfect place for campers to own the summer! Now offering a variety of options on several campuses, for students ages 9-18. Be sure to check out our most popular camps like Crime Scene Investigator, Beautiful You, and Clay Creations. Our newest 2022 camps include eSports Apprentice, YouTube FX Masters, Adventures in Augmented Reality, Medical Careers Camp, Robotics, Recycled Art, Jewelry Making, and more.....! Spots fill up quickly, so register online today at youth.cpcc.edu.
Charlotte Academy of Music: Award-winning SPLASH Summer Camps is the place for kids to discover their passions. Sparking creativity, making new friends, and building confidence, your child will thrive in ART, MUSIC, MUSICAL THEATRE, and special THEME camps. Choose from these exciting camp options for kids, tweens, and teens! *Early Birds SAVE $25 on each camp when enrolling by March 15th!
Charlotte Chess Center: Taught by the top chess instructors in the Southeast, the award winning Charlotte Chess Center Junior Master Chess Camps are packed with fun and learning! Students New to Chess will Learn: Piece Movement, Board Set-up, Basic Rules, Checkmating Patterns, and more! Students Who Have Played will Learn: Tactics, Strategies, Opening Principles, Advanced Checkmating Patterns, Chess History, and much more!
Charlotte Soccer Academy: Charlotte Soccer Academy Summer Camps meet the needs of all soccer players, from recreation level to club level. Summer Camp Series includes both general and specialized camps in Pineville, South Charlotte, Matthews, and Cabarrus County. Players of all skill levels, ages 5 and up, and campers do not have to be current CSA players. Discounts are offered for early registration. Click HERE for our 2022 Summer Camp programs.
College Nannies+Sitters: Did you miss the deadline for your favorite summer camp? Are you on endless waitlists to ensure your kiddos have a good summer? Don't Fret - We can bring the FUN home! Summer Camp Reimagined with College Sitters has partnered with Adventure Links summer camps to bring camp to your neighborhood's backyard. Our trained nanny + manny counselors will deliver up to 8 weeks of camp content and each week has a different focus. Click HERE for our 2022 Summer Camp programs.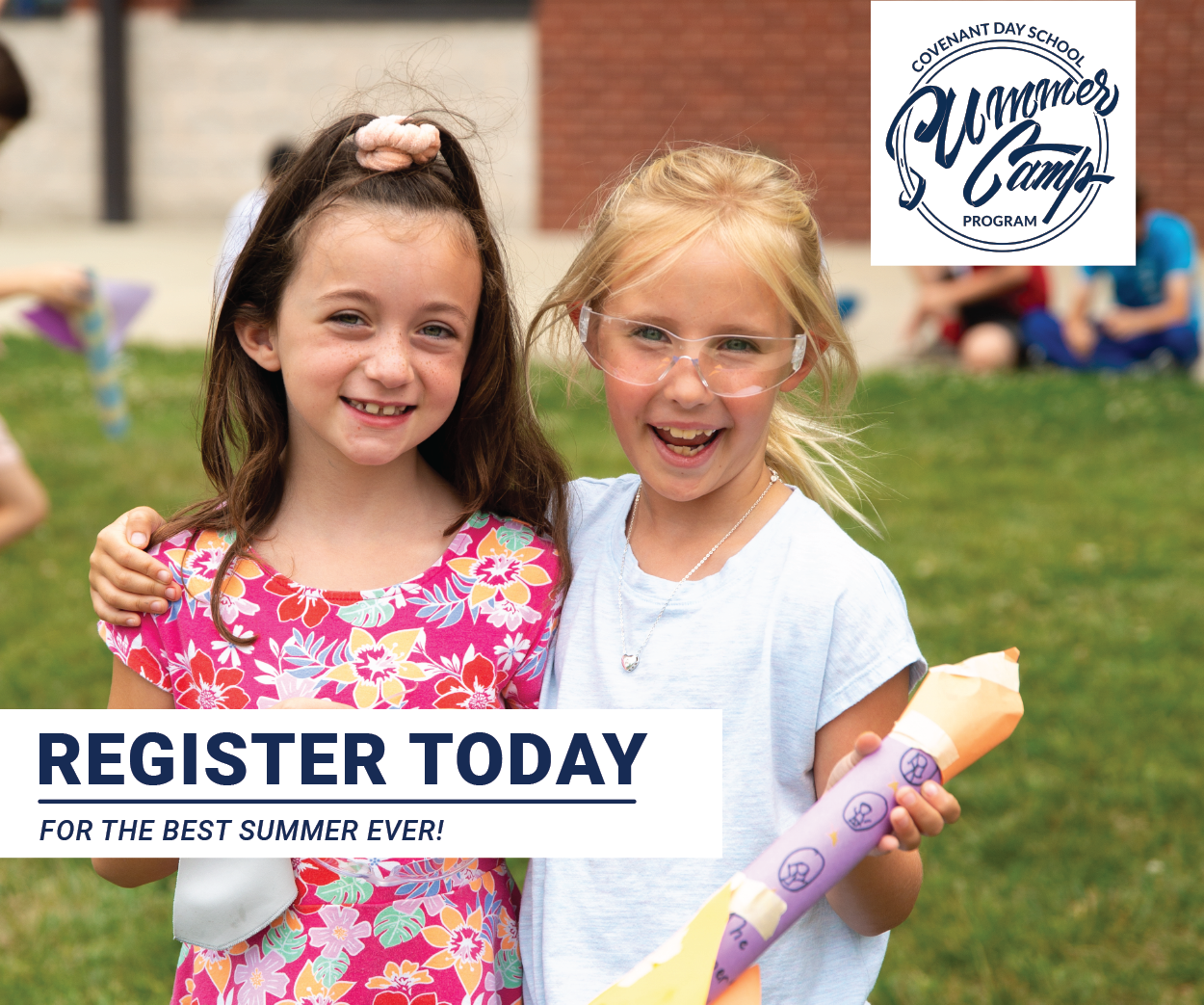 Covenant Day School: Join in the fun this summer as CDS campers build, run, shoot, kick, experiment, act, sing, dance, write, swing, score, cheer, design, and create. We offer camps for students in grades TK-12 in the following areas: full and half-day Camp Lion Day Camp, ninja, sports, art, engineering, theater, Nerf, pickleball, ultimate frisbee, CPR & babysitting training, baking, and more. Check out www.covenantday.org/summercamps for a full listing and descriptions of all our camps! Early Bird registration rates are available on many camps until 2/28/22.
| | | |
| --- | --- | --- |
| | | |
ILIM School: Experience an unforgettable opportunity for your child to see the world through ILIM School's eyes. Now families have the opportunity to experience our school's multi-language immersion Montessori camp. Campers get to dive into the fun cultures, arts, entrepreneurship, and much more within the 4 languages that ILIM School teaches (Mandarin, Arabic, Spanish, and English). Give your child a unique experience this summer of experiencing life-long friendships while also learning different languages in a Montessori environment.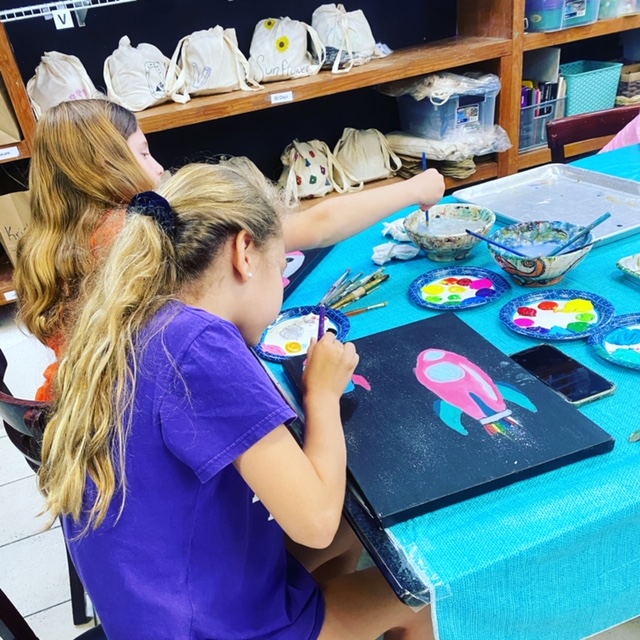 Dish it Out Pottery Studio: Summer Art Camp at Dish It Out Pottery Studio is for kids ages 7 and up. Camp meets Monday-Friday from 10 AM - 1 PM. Campers will enjoy getting creative with pottery painting, acrylics on canvas, mosaics, crafts, and mixed-media projects. Camp is all about self-expression, creativity, and fun. Campers bring a bag lunch and beverage for a mid-day break. The cost is $265 per week. Early Bird registration rates are available on many camps until 2/28/22.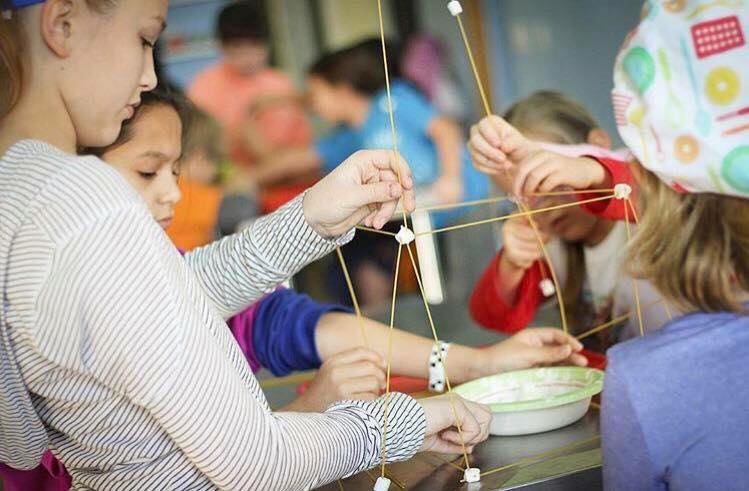 Flower Power-Fort Mill: Bring your Lil' Chef over and you'll pick up a newly self-confident child who will beg to cook dinner for you! Your Lil' Chef will help create his or her own snacks and lunch and we'll supply everything that he or she will need for an amazing week or day filled with newly developed life-long skills including math, science, reading, and chemistry! During camp, our instructors use a variety of teaching methods--some individual, some small group, some large group, and some demonstration! What's included: All supplies, all camp recipes, snacks, and lunches!
| | | |
| --- | --- | --- |
| | | |
Miller Street Dance Academy: Summer Camps at Miller Street Dance Academy are perfect for young children, ages 3-8, who are looking for a fun summer activity. Each camp week is themed and will include dancing, tumbling, crafts, and games. Register before March 31st for early bird pricing! Each camp week is $200 per camper. All registrations submitted by March 31st qualify for our early bird pricing of $175 per camper.
Mission Grit Summer Camps: Leadership Summer Camp is set up as a non-competitive environment and our activities nurture teamwork and collaboration, through constantly varied obstacle courses, Scenario Adventure quests, Team-building challenges, leadership development, adventure courses, engineering activities, fitness, confidence development, Mind games, construction, spy games, Self defense concepts, relay races and so much more. Spring Break and School Break camps are also available.
Queens University Volleyball Camps: Queens University offers volleyball camps for kids ages 6-18 and all skill levels. There are camps for beginners who want to learn the sport and the basics and even camps for players at an elite level who are looking to play in college. If signing up for all skills sessions, one session will be free!
The Learning Experience Summer Camps: Our summer program encourages social and emotional development, teamwork, and collaboration all summer long in an environment where children feel happy and safe. Your child will enjoy STEM-focused learning activities, guest entertainers, weekly water play days, virtual field trips, outdoor opportunities, and much more!
Terrific Scientific: Locally owned with experience in teaching and bringing academic enrichment programs to students of all ages, we know how to inspire students to explore the mysteries of science! Currently serving Charlotte and the surrounding communities, we have a reputation for quality, reliability, and sustainability. Click HERE for our 2022 Summer Camp programs.
Spare Time Pineville: Spare Time Pineville features 20 luxury bowling lanes, private event and dining spaces, a huge arcade with over 70 games, a laser tag arena, 4 escape rooms, and a full restaurant and pizzeria. It's a beautiful and exciting new spot that is the perfect outing for your school or camp group!
JazzArts Summer Music Camp: JazzArts Summer Music Camp 2022 Presented at UNC Charlotte JUNE 20-24 2022 9 am – 3 pm (registration & financial aid application deadline June 1) at UNCC Main Campus. The JazzArts Music Camp is an exciting one-week comprehensive music training program for rising middle and high school students ready to discover America's original art form: JAZZ. Students will be immersed in an intensive jazz curriculum and have the opportunity to interact and play with other motivated young musicians from across the Charlotte region. Click HERE for our 2022 Summer Camp programs.
**South Charlotte Macaroni Kid is proud to present these camps as community sponsors. Please note: parents should always do their own research when selecting programs for their children. All camp-specific information is available on the camp websites or by emailing the facilitators, directly.
If you run a summer camp and would like to be added to this Summer Camp Guide, it's not too late! Please email me at rebeccap@macaronikid.com so we can add you to this awesome guide!
Looking to reach families in Union County, Fort Mill, and Tega Cay? We can help! Email for details!